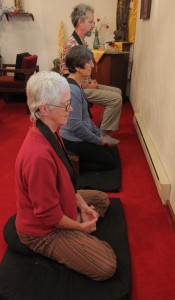 The temple is currently closed due to the coronavirus.
It is very helpful to attend an introductory session before coming to the priory for other activities. These introductions generally occur once a month on either a Saturday morning from 10:00 – 12:00 noon, or a Tuesday evening from 5:00 – 6:30pm. Please see dates for 2020 below.

We practice a form of Buddhist meditation known as Serene Reflection Meditation, called Soto Zen in Japan. To realize the depth of meditation practice requires personal effort and commitment. A qualified teacher and local community can be an invaluable resource and support. We hope the information given in our introduction will be helpful to you in deciding whether our approach is something you would like to explore further.
If you are intending to come to an introduction, please call or email the priory beforehand and let us know. In a small group of people, we show the various physical postures used for meditation and discuss the mind of meditation. We will also look at Zen ceremonial, at how meditation leads to the wish to live an ethical life, and how to carry meditation into daily activities.
Please wear loose-fitting clothing when you attend the temple. We do not charge for the introduction or for any of our activities. We gratefully accept donations of money, food (the resident monk is vegan–no animal products–and does not use alcohol) or household goods. Please offer what is in accordance with your means.
Introduction to Zen Meditation Dates for 2020
Tuesday, 5:00 – 6:30pm: July 7; September 1; November 10.
Saturday, 10:00am – 12:00 noon: June 6; August 1; October 3; December 5.