Winter Newsletter 2017
 Winter Ceremonies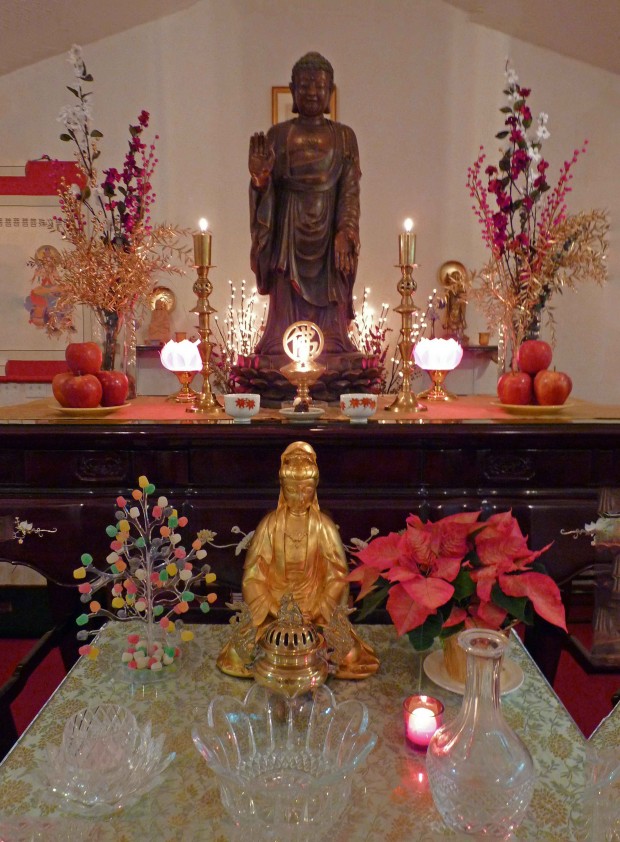 On December 12th we celebrated the Buddha's Enlightenment at our Enlightenment Day Festival. Earlier in the week we sang invocations and did recitations as an offering to Shakyamuni Buddha and to show gratitude for His teaching. The festival was followed with a potluck meal and lively discussion.
On New Year's Eve we celebrated with a traditional Buddhist ceremony and a social tea to see in the New Year. There was a drop-in open house on New Year's Day in the afternoon to offer congregation members the opportunity to do bows in our meditation hall—a traditional practice in the Buddhist world—and to share an informal tea.
The priory closed on January 2nd for three weeks in order to give me a period of rest and reflection at the beginning of the year.
Visitors
In mid-January, Rev. Leon, prior at Portland Buddhist Priory, and Rev. Allard of Shasta Abbey stopped by on their way down to Shasta. It was enjoyable to see them both, and we engaged in a lively discussion about what we as priests can offer and how to take part in bridging the widening political divide in the United States.
The Priory Grounds
I had imagined that there would be no entry on the Priory grounds in this newsletter, as my intention was to take a break from my focus on the property and to spend more quiet time inside this winter. Instead, we had a severe ice storm on December 16th—expectation trips me up again—that did significant damage to our grounds with the loss of uncountable trees. Except for minor damage to several structures, the buildings were spared.
I decided not to begin cleanup until we reopened in late January so that I could have a retreat period. We are now in the throes of cleaning up the storm damage and, at the same time, looking at fire danger and other concerns. There was a section of property with a significant number of dead Douglas fir and with the storm damage on top of that, it became pretty much a tangle of ground cover (mostly poison oak and black berry bushes), fallen branches and dead trees. With the advice of a forester who walked through the Priory property with me, the decision was made to remove all the trees and dead plants from the area (pretty much "clear cut") and to replant it in the fall with cedar and Ponderosa pine, as well as some native deciduous trees. It is rather a shock, and disheartening, to see the bare land and to imagine the animals who once lived there. Yet when I revisit the decision, I still end with "this needed doing."
Service to the Eugene Community
At our last community meeting in 2016, we decided to explore making an offering of service to the Eugene community. This decision came partly from a wish to take part in a positive activity of support in light of the negativity and "name-calling" from both sides during the presidential election. A group of those interested met in early February and discussed in more detail possible directions for contributing to the community. The following three opportunities for service were highlighted:
Food for Lane County, volunteering at their central office, in "The Dining Room" which serves meals at no charge, or working in the garden that provides fresh vegetables and fruits for their meals.
Community Supported Shelters, offers temporary housing for up to 85 homeless people and aims to find training, employment and/or more permanent housing for residents. There are many different types of volunteer work—from office work to counseling to cleanup–through this organization.
Ann's Heart Women's Shelter, a new transitional housing unit for homeless women jointly supported by Ebbert Memorial United Methodist Church and St. Vincent de Paul.
Various members of the sangha offered to gather further information on each of the above and the community service "team" will meet again in the near future.
If you have interest in working with the Priory on service to Eugene–or have an interest in remaining in the loop about our service–and your name is not yet on our email list, please let Talbot Bielefeldt at talbotb@comcast.net know and he will add you to the list.
A Thank You
I wish to thank those who were of help to me during the storm and following 5 days without electricity or water, in particular: Nancy Fletcher who—even though her house had significant damage from fallen trees—came to check on me the day following the storm when she couldn't get through by phone; Dixie Feiner who offered the use of her shower and bought me a warm lunch at a nearby restaurant; Ernie Rimerman who brought food and water to the priory; Wendy Schwall who left four, 5-gallon bright red (cheered me up immensely) buckets filled with water on our porch when I was out so that I could flush the toilet and also other helpful LED lights to be used when the electricity is out.
I would also like to thank Mick Wahal, who found the services of a logger and covered the cost; and to Ernie Rimerman, Myron Cook and Al LePage for their very generous financial donations in response to the expense of cleanup and other work on the grounds. My deep gratitude to you and to everyone who made offerings of help during this time.
 

Alms Bowl



Further donations toward the cleanup and care of our 4-plus acres will be received with gratitude.
A Bit More About "Welcome"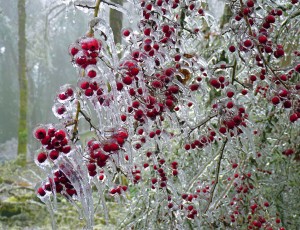 You may recall that in our last newsletter I talked about welcoming what comes to us each day. Finding openness in our hearts to our difficulties and empathy for the difficulties of others, are we able to say "this is what is here now" without complaint or judgment? Yes, we have preferences. Can we lay our preferences aside and do what needs to be done?
      This has been on my mind the last few months because of the ice storm that occurred in Eugene in mid-December—on-the-ground training in "welcome." Due to several drought years, trees competing for limited light and then an ice storm that put great strain and weight on trees and branches that were already growing "sideways," we lost many, many trees in the storm. This requires a major cleanup—figuring out what needs doing and in what order, hiring people, looking at the financial side.
      So the question I asked myself was, "Am I able to welcome this demand, coming in from left field, on my time and energy and on the priory's finances?" Too, there is a grief at losing so many fine trees and the wild life they helped to support. This has been difficult for me to do. I will gain and then lose equilibrium, gain and lose perspective—I want to say, gain and lose control, but I never had control.
      And yet, and yet, as I watch the process in me and am aware of how I respond as each  thing comes up, I have learned that welcoming comes more easily in bits. Not can I welcome the whole mess, but how about what is happening today: can I welcome the insurance adjuster, the estimate for stump grinding, the various and often conflicting suggestions on how to proceed? So I am doing my best to welcome in bits—moment to moment—and some days I do better than others. And that's okay. If I am feeling overwhelmed, I try to back up and take smaller bites (or bits).
      I can put a great deal of effort into trying to make things happen now, when they just are not going to happen now. The sense of always pushing, chasing after and not accomplishing a lot—that is what wears me out. Can I drop all that? What is it good to do today, or even right now? Maybe it is good to make lots of arrangements, and maybe it is good to take a day off from the mess, step away.
      What tires me, what is stressful is not trusting that everything is okay, and everything will be okay. Learning that "even when I'm not okay, I'm okay." Yes, I can see that. There is something below the whole process that hums along, that is okay. Be quiet enough to recognize that place, act from that place.
      A congregation member recently remarked that it is difficult enough to accept some things, particularly difficulties, let alone to actually welcome them. Yet what a load off if we can just open the door every day and say welcome, regardless of what is knocking. That can certainly lead to an end of suffering. At the same time, it doesn't work to use welcome as an exercise or strategy because we think then life will be easier. (A begrudging, "Hey, I don't like you, but welcome, since welcome will help to reduce the stress.")
      My teacher, Rev. Master Daishin Morgan, recently said to me that acceptance is much deeper than resignation or accommodation. This keeps floating through my mind. I can almost reach it. I tend to look at things in a practical way, acceptance as a way to "manage my life," to convince myself that everything is fine. I understand this is not what is meant. A deep acceptance or welcome arises from a ground of sufficiency, a trust that we already have what we seek. It is not as if we need to "find" welcome; it is always with us, we are just asked to open the door.
      So perhaps at this moment I cannot welcome, and I just want to stay in bed and listen to the rain and comfort myself. Good. See that desire and bow to it. I don't need to follow. And perhaps tomorrow, bit-by-bit I can welcome with a lightness. Hello, what's up today? Good. See that and be thankful for the teaching. I have learned more about suffering and the cessation of suffering by watching the consequences of being batted back and forth by circumstances like a ping pong ball. It's the "mess" in our lives that teaches us, when we are ready to listen.
    — In gassho, Rev. Oriana